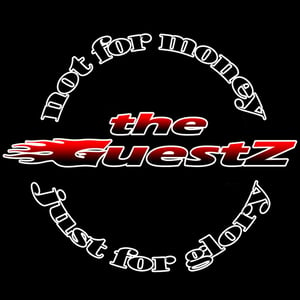 €

5.00 - On Sale
* Tracklist:
1. Jonna Wants Two Beers
2. Piracy
3. House Of Rock
4. Naked Alice
5. In The Blink Of An Eye
* Details:
All songs written and arranged by The Guestz, except Jonna Wants Two Beers arranged by The Guestz & Christian Ice.
Rhythm guitars, bass and drums recorded by Mirko Ravaglia at Temple Of Noise studio 2 (Rome) on 7-8-9 April 2008.
Lead guitars, vocals and additional stuff recorded by Christian Ice at Temple Of Noise studio 1 (Rome) on 14-15-16 April 2008.
Mixed & mastered by Christian Ice.
* The players:
Mimmo God: lead & backing vocals, acoustic guitar
Jonna: lead & rhythm guitars, backing vocals, lighter
Rob N. Roll: bass, backing vocals
Matt Svarione: drums, tambourine, backing vocals, human capo
Additional backing vocals by Christian Ice.
* Press quotes:
"A band with a shit-load of potential!" [Glitzine - UK]
"A fresh and really cool album for all Sleaze Rock bands lovers!" [Sleaze Metal - DE]
"They're the type of band that will live and die by big hooks" [Rock And a Hard Place - USA]
"5 tracks full of feeling and power" [Métal Intégral - FRA]
"It makes us feel as if we were listening to an American band" [Burrrn! - JAP]
"The guitars krank fire" [Metal Temple - GRE]
"If they come to a city near you, go see them; it looks like one wild time!" [Rock Eyez - USA]
"I can't wait for a full blown album" [The Mayfair Mall 'zine - UK]
"Huge guitars, great riffs and refrains" [Metal Maniac magazine - ITA]
"A recording quality that outclasses many of the cds that we receive" [Roxx Zone - ITA]
"Passion and perseverance plus the right amount of talent" [Classix - ITA]
"Pure adrenaline" [Rock Hard Magazine - ITA]